As well as offering specialist music therapy sessions, we provide a therapist led service. Our music therapists will bring, and share, all of their training and learning, but use their skills outside of the therapy room so more people can benefit.
Workshops and Staff Training in Therapeutic use of music
We deliver workshops into work venues, schools, residential care homes, supported living and day centres to show your staff team the principles of music therapy. The music therapist will provide an overview of a number of different techniques that may be incorporated into your work, and outline the benefits not only in terms of social, cognitive, communication and physical development but give a sense of togetherness, confidence, creativity and overall emotional wellbeing.  At our workshops you may expect to :
Take part in the experiential music making

Improve knowledge of using music with vulnerable individuals

Feel more confident to use music in daily care work / teaching
Clinical Supervision for Music Therapists
Clinical supervision is an important and integral part of all therapeutic work and it is our responsibility to meet the standards set by the HCPC. The collaborative process provides the clinician with a space to reflect on and develop their own work while monitoring the effectiveness of the therapeutic interventions. 
Through support and discussion, areas of difficulty can be explored and techniques and theoretical knowledge expanded to best meet the needs of the clients. 
Every Day Harmony is able to offer a clinical supervision service in person, via email or on-line.
Innovative Service Development
For The Under 5 Age Group

A set of pre-recorded sessions to use with your client group, which will include:
1 x Introduction video
6 x Music Therapy sessions
Information leaflet and Lyrics
An optional bag of children's instruments for the 1-5 age group.
Bespoke Packages For Your Client Group

A specially commissioned set of pre-recorded sessions for you to use with your group.  These bespoke videos will be tailored by our Music Therapist for the specific requirements of your service user group and each pack will contain:
1 x Introduction video
6 x Music Therapy sessions
Information leaflet and Lyrics.
Music for Mental Health and Well-being
Pop
–

up

Choir

Why not have a little fun and improve the wellbeing of your staff / group by developing a choir in your organisation? We will show you how singing increases the oxygen in the blood, releases feel good hormones and improves self-esteem, memory, posture and breathing.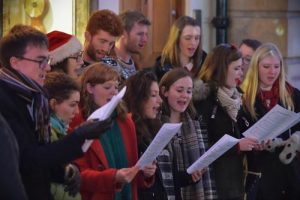 Please contact us for more details on all our services.
Download our service information
This will give you a more detailed overview of our complete range of services. If you have a requirement for a completely bespoke approach then please feel free to chat with one of our team.
Making a donation
Every donation is appreciated and will be used to help change the lives of children, young people and adults across Northern Ireland through music therapy.
Thank you!
DONATE HERE